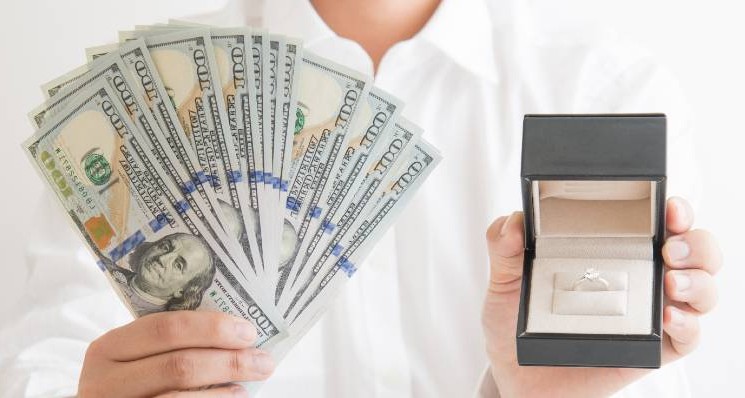 The divorce is final and now it's time to sell your engagement ring and get the most cash you can. So you have turned to the internet to learn where, who, and how to go about selling your diamond ring. Exchange.Diamonds is here to help you find the easiest solution to your problem and to help you explore all the options that you have available.
Your ring could be worth a lot of money so it is worth educating yourself to find out what diamond buyers look for when purchasing your ring.
Top Tips To Know When You Sell An Engagement Ring:
There is a lot to know when you want to turn your no longer needed engagement ring into a handsome cash buyout. There are so many factors that go into determining the price of every diamond. One jewelry buyer might see it worth $1000 while the guy down the road see's the value as $1500. In this post, we will educate you on different factors and some tips that will help you determine where to sell your engagement ring for maximum value.
Where To Sell An Engagement Ring?
Nowadays you have many different options and tools to help you get paid when you want to sell jewelry. A simple Google search will give you plenty of places that will buy your jewelry. The goal of this article is to help you make a good decision that will result in the maximum payout for your engagement ring. Here are some options:
Sell To A Local Jewelry Store-  Some local jewelry stores buy engagement rings and some do not buy any jewelry.  The best way to determine what a local jewelry store will pay will be to simply walk in there and tell them you would like to get an offer on your ring.  You will not necessarily need any paperwork to do this option because it is the store's duty as a diamond jewelry buyer to be able to grade the diamond ring on their own.  It is best to shop around with several local diamond buyers to see who is paying the most.
Sell To A Pawn Shop-  When we work with customers we often hear that pawn stores can sometimes get a bad wrap when selling engagement rings and other types of jewelry.  However, like local jewelry stores, each place will have a different amount to offer.  Some pawn stores will offer more than others so it helps to shop around.
Sell Yourself On Facebook, Craigslist, etc.- You can list your engagement ring for sale on several different websites and apps yourself.  This is a possibility but selling diamonds and engagement rings is a very tricky industry that requires a lot of trust from all parties involved.  We have all heard bad stories that happened to people who try to sell valuables to complete strangers online.  Most of our clients will trust us to sell their items for them or just sell directly to us.
Jewelry Consignment Option-  Some companies including Exchange.Diamonds offer a jewelry consignment program to help sell your engagement ring for a small fee (Usually around 20%).  Jewelry consignment will help customers who want to sell get maximum value, however, there is no exact timeframe for when your item might sell.
Sell Engagement Ring Online-  This is a diamond buying option that we offer at Exchange.Diamonds.  Simply fill out our contact form or call us today to get more information.  When you sell your engagement ring online we can give you estimates over the phone then prepaid insured shipping will be arranged.  Once we inspect the engagement ring we will do a direct deposit into your bank account or we can send you a check.