Purchasing diamond jewelry is similar to making an investment, so you should proceed with caution. Even if the majority of us look for jewelry that will retain its luster for a significant amount of time, it is equally as important to find an item that is of great quality and for great value.
That is why we have put together this list of the top jewelry stores in Denver to get the best diamonds, engagement rings, earrings, and other types of diamond jewelry. The real difficulty now lies in determining which option is best in each circumstance. Given the variety of possibilities available, it could be difficult for you to select the correct one that is most suited to meet your needs.
You are in luck since we have provided you with a list of five jewelry retailers in this city so that you can make your selection without any hassle.
When making our selections for the different Denver jewelers to be featured on the list, we took into account the following criteria:
Product selection and quality: Our primary concentration was on businesses that offer high-end jewelry at prices that are affordable to the average consumer. Aside from that, we focused the majority of our attention on businesses that offered a diverse selection of products. This is a result of their capacity to cater to the myriad requirements of their clients in an effective manner.
Availability: When looking for a jeweler to work with, you should prioritize finding someone who is prompt and can be reached at any time. Every single patron is made to feel valued.
Reputation: the testimonials of previous customers are what is used to determine this. Any shopper ought to constantly place a high value on retailers who consistently work hard to deliver superior customer service and should do so without fail.
Skills: Possessing the appropriate qualifications is really necessary in order to win the trust of customers. Our primary focus was on companies that were recognized for their excellence and held current licenses and accreditations.
Experience: A wealth of experience is required in order to manufacture and repair jewelry products that are up to date with the most recent standards set by the industry. A well-versed specialist is required for this.
Top Jewelers in Denver: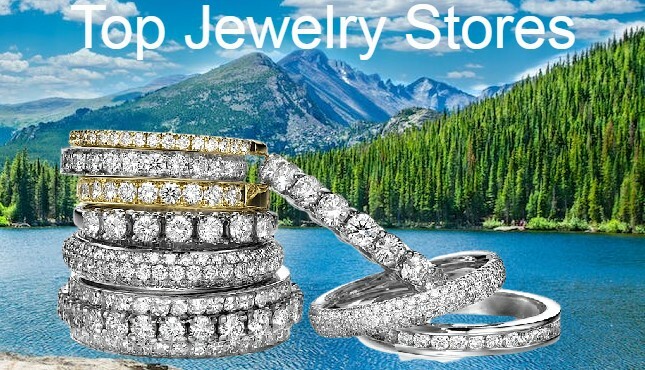 1. Mark's Diamonds
Location: 3033 E 1st Ave Ste 503, Denver, CO 80206, United States
Mark Hadley, one of the most skilled and trusted bespoke jewelers in Denver, will assist you in navigating the process of picking the ideal diamond jewelry and will walk you through the steps involved. Because of their more than 35 years of experience selling engagement rings and other fine diamond jewelry, as well as a private showroom that is conveniently located in Denver, they are able to provide you with the individualized attention that you deserve without having anyone look over your shoulder.
Their specialties are:
Jewelry Appraisals
Luxury Watches
Engagement Rings
Wedding Bands
Fine Jewelry
Rolex
Jewelry Repair
Watch Repair
Custom Jewelry
You are in for a memorable and enjoyable experience when you go diamond shopping at Mark's Diamonds. You may also take advantage of the possibility to customize any piece of jewelry that you purchase from the shop in order to make it more unique.
Mark's Diamonds is a member of the De Beers Group of Companies, which is one of the world's leading diamond manufacturers. Because of this relationship, they are able to provide you with an almost unrivaled collection of loose diamonds in Denver that originate from all over the world and come at an unbeatable price.
The finest examples of Mark and Nataliya's excellent jewelry craftsmanship can be seen at Mark's Diamonds. The foundation of the company is based on providing prices that cannot be beaten, the highest degree of personal service possible, and quality that cannot be compromised. The skilled craftsmanship of each individual piece of jewelry ensures the formation of a unique and unforgettable recollection.
Learn more at https://marksdiamonds.com
2. Sarah O. Jewelry
Location: 4301 Tennyson St Denver, CO 80212 Northwest
Sarah O. is the place to go for engagement rings, custom wedding jewelry, and one-of-a-kind diamonds and gemstones in gold and platinum. Whether you're looking for something classic or alternative, Sarah O. has you covered.
The jewelry collection offered by Sarah O. Jewelry is a manifestation of the creativity and unmatched design offered by the company. You can view all of the most recent works of art on the website. . Each item is completely original and one of a kind, and it was crafted with a high level of care. This not only guarantees the finest possible quality but also transforms each item into an investment that will be worthwhile for a lifetime.
With such a wide variety of wedding rings available in diamond, gold, and other modern metals, it is possible to choose one that complements any aesthetic. You are guaranteed to find a diamond in the rough whether you are on the hunt for an exceptional present or the ideal accessory for the big day of your wedding.
The main offerings of the store are:
Engagements rings and bands
Necklaces
Earrings
Bracelets
Personalized gifts
Different collections such as voyage, signature, emerge, etc.
Custom designs
You can expect to get a wholesome experience at the store. To book an appointment, contact them through phone call on (720) 502-3229 or via email at hello@sarahojewelry.com. Moreover, you can always visit their website https://www.sarahojewelry.com/
3. The Diamond Reserve
Location: 100 Fillmore St #552, Denver, CO 80206, United States
Finding the perfect jewelry store in Denver to purchase a diamond and an engagement ring does not have to be a stressful experience; rather, the process should be enjoyable and exciting. That is precisely how it will feel when you are working with The Diamond Reserve.
Their team will walk you through the process of choosing a diamond or gemstone that is suitable for both your requirements and your financial constraints, as well as ensuring that you get the best deal possible.
A wide variety of bridal jewelry, including engagement rings, wedding bands, and bespoke jewelry, as well as rings, necklaces, earrings, and bracelets, and a specialized "mommy and me" section, can be found at The Diamond Reserve.
When making purchasing something of this magnitude, you are entitled to get personalized attention in a relaxing atmosphere free from the disruption caused by other customers. This is something that The Diamond Reserve is quite knowledgeable about. They operate on an appointment-only basis, which ensures that you receive the individualized attention and privacy that you are entitled to, as well as enables them to deliver an unrivaled level of customer service to you.
To book an appointment with The Diamond Reserve, call (720) 560-3548 or visit their website.
https://thediamondreserve.com/
4. JF Options Jewelers
Location: 3575 Ringsby Ct Suite 302, Denver, CO 80216, United States
JF Options Jewelers has been one of Denver's most reliable providers of fine jewelry ever since it was established in 1992. They serve customers not only in Denver but also all around the country. Becky and Barry Baxman, owners of JF Options Jewelers, will treat you like family no matter what type of jewelry you are looking to buy, whether it be your first piece of jewelry, an engagement ring or anniversary gift, an insurance replacement, or a restyled antique.
Their collection features the following:
| | |
| --- | --- |
| Bridal | Designers |
| Engagement rings | Novel |
| wedding bands (women) | Benchmark |
| Wedding bands (men) | ArtCarved |
| Signature collection | Dilamani |
| Custom designs | Forge |
Other pieces of jewelry, such as enhancers, guards, wraps, pendants, necklaces, earrings, bracelets, and bracelet caps, can be purchased from the retailer.
The diamond sellers offer high-quality jewelry that has been honed to perfection by making use of the most contemporary technology and by taking into consideration the requirements of the market.
You can visit the store on-site to purchase a unique piece of jewelry for yourself or a loved one, or you can make an appointment by calling (303) 292-4744 or going online to view the inventory and schedule a viewing.
https://www.jfoptionsjewelers.com/
5- Hyde Park Jewelers
Location: 3000 E 1st Ave, Denver, CO 80206, United States
When you visit Hyde Park Jewelers, you can always anticipate receiving service that is second to none while perusing a remarkable variety of the world's most magnificent watches, designer jewelry, and exquisite gemstones. They are very much aware of how important it is to win the trust of the customer and to go above and beyond their standards in every aspect of the service they provide.
In addition to placing emphasis on ethical sourcing, their industry affiliations, community involvement, charitable donations, and environmental practices, this is unquestionably a one-stop-shop for all of your jewelry requirements because of their dedication to upholding the highest levels of professionalism and integrity throughout all aspects of the company's operations.
Hyde Park Jewelers, which was formerly known as Traditional Jewelers, is known for its extensive collection of prestigious timepieces and designer jewelry brands. This collection includes four unparalleled shop-in-shops that are dedicated to the brands Rolex, Patek Philippe, Cartier, and Officine Panerai.
Other attractions of the store include the well-known Fred Leighton Estate Collection, a spacious wedding salon, and some of the most prestigious names in designer jewelry, such as Kwiat, Mikimoto, Ivanka Trump, Stephen Webster, and a great deal more.
Along with on-site jewelry and watch repair, Hyde Park Jewelers also provides bespoke design services using the most advanced technology available.
If you wish to be treated in the finest manner possible, visit Hyde Park Jewelers. Or you can get in touch with them via email. Book your appointment now!
Things to Know Before Buying Diamond Jewelry in Denver
When purchasing a diamond, where should one start? It's a mystery wrapped in a conundrum for anyone who has never ventured into this ostensibly uncharted zone. Most people searching for jewelers in Denver are familiar with the "4 C's," which the Gemological Institute of America developed to classify diamonds according to their color, cut, clarity, and carat weight.
But is this the only part of the formula? Maybe not. In order to make this situation simpler for you, here are a few things you should know before purchasing jewelry in Denver.
Share your concerns: Make sure to consistently ask about production history and gemological certification. When adding valuable stones to jewelry, always ask the salesman about the precious stones used and the setting techniques used. A knowledgeable salesperson will always be glad to go over every detail with you. On numerous occasions, salespeople for well-known brands may attempt to get you to purchase jewelry. However, they will always insist on the greatest selections available to you within your budget.
Lookout for indications: All jewelers adhere to the law's mandate that they attach a brand mark or quality stamp to the jewelry as a sign of their originality. For instance, rings it is found on the ring shank. A jewelry business may ensure the authenticity of the gems and materials used to make the jewelry by utilizing a trademark logo.
Follow the GIA's 4C guidelines: The industry standard for grading diamonds is the 4C guide, which stands for color, clarity, cut, and carat weight. This rule's main objective is to make sure that the buyer is aware of the diamond they have purchased and its quality. An honest buyer will immediately show you diamond-based jewelry when you ask about it. As it is a frequently used standard, be sure to ask for it!
Evaluation: A lot of people pass up this chance! Data should always be gathered before judgment. An evaluation is required to verify the quality of the diamonds and stones used to create the jewelry. It is a reliable, widely accepted barometer of greatness. The similarity to the necklace you bought from the jeweler has been confirmed!
Certification is necessary: As they say, not everything that glitters is gold, and this is especially true of diamonds. Anyone without diamond experience should check the seller's certificate. It is naturally a good idea to obtain a certificate from one of the top grading laboratories, like GIA or IGI, to verify the diamond grade you are purchasing. The item's cut, clarity, and color have been verified by a licensed gemologist, according to the certificate.
The following are some tips you should be aware of when buying jewelry. Every jewelry store we recommend works to provide the best jewelry-buying experience possible over time. It is always best to educate yourself before making any type of major purchase.
We sincerely hope this writing has given you some advice on where to get the best jewelry in Denver for you and your loved ones, and wish you luck with your jewelry purchases.
Summing Up The Top Jewelry Stores in Denver
Above are mentioned the 5 best diamond jewelers in Denver. These have been chosen and compiled after careful observation of many factors after throroughly searching this amazing city. Hopefully, this article will save you some time in finding the perfect Denver jewelry store to make your purchase from.
Along with that, you can follow the jewelry buying tips as well to have a holistic experience.